Salma Jaouni
CEO, HCAC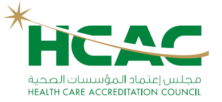 Salma Jaouni is the CEO of the Health Care Accreditation Council since May 2012, the Arab region's only independent organization aiming at improving healthcare quality and patient safety.
Before HCAC, Ms. Jaouni was Senior Advisor to the Prime Minister of Jordan leading his Agenda on health and education improvement, social development, youth engagement, and public sector reform.
Ms. Jaouni was founding director/four-year manager of Jordan's Breast Cancer Program dedicated to improving the quality, accessibility, and usability of screening services and raising awareness.
She also worked with Booz Allen Hamilton as a senior consultant for the Middle East and Gulf and held key positions with the World Bank and USAID.
22 NOV Opening Session
Welcome Remarks